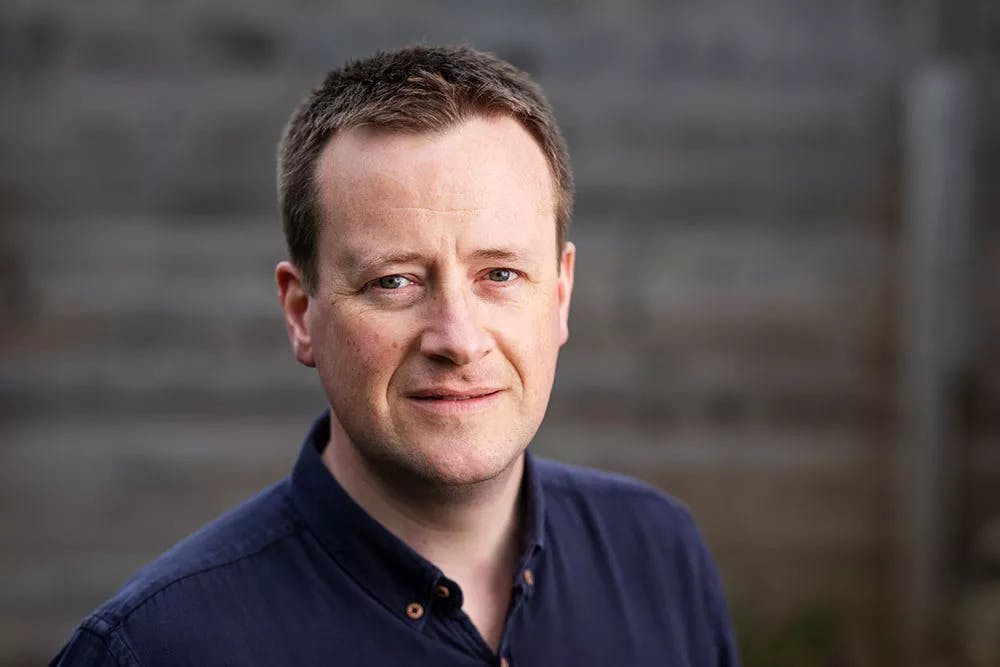 Headshots are a must have for most businesses. They have a multitude of uses and can convey the personal side of your company immediately. Keeping these images up-to-date and having continuity across them is a challenge. Ideally, the same photographer should shoot them all at the same time, with style, lighting, color retouching and crop remaining consistent.
Choosing the right photographer
Experience has taught Dublin, Ireland-based photographer Naoise Culhane that headshots are critical assignments. He wants to make the best of the opportunity and have his photographs reveal his subject's personality.
"I've got a job coming up with a firm of actuaries. I don't think they've ever had a professional photographer before, and by their own admission, they are quite a serious bunch. They want to try and have a friendly look at the images yet corporate nonetheless. As most of them haven't had their portrait taken before, you need to be conscious they might be nervous. Once you know this in advance, you can work to this brief and achieve the results required," Naoise explained.
In terms of finding a photographer for corporate headshots, it's important to try and find someone with experience. It's a surprisingly specialized skill, and not every photographer can do it. Not every photographer will admit that, so asking to see some previous work is always a good idea.
Naoise's advice on choosing a photographer is simple. Select someone with the right experience. "In a big city, you're going to have people like me who say, "I don't do weddings, I don't do family portraits," so it might be easier to narrow it down on the photographer's website. If you haven't got a recommendation from word of mouth, then maybe you might just need to make a decision based on their portfolio of work –  asking the photographer, "Will you give me a selection of your corporate headshots?
It's also important to brief your photographer in advance on the assignment. They may need to bring special equipment that might not be used for normal corporate photography.
"Many times I've arrived at the location, and the client might say 'By the way, will you do a headshot of each of these people?' So, the photographer needs to be confident enough to say, 'give me a few minutes. I'll set up a bit of lighting," so you are going to provide a professional result.
It's worth doing some research before your shoot – to look at headshots on corporate or photographer websites and deciding which style is right for you. It will be worth working closely with the photographer in the pre-shoot planning to assess the kind of images you need.
What is your brand style – if it is very formal, then the clothing style should represent this? However, if your team has the time, it might be worth doing formal and more casual portrait options, which will give you a choice in how the pictures are being used.
Prepping your team and the shoot space
It's good advice to avoid clothing with brand logos, patterns, stripes, and short term fashion trends which will quickly date the images. It's also worth talking to your brand design team to discuss their input. There may be a case for planning 'copy space' on top of a vertical portrait for a magazine or report cover. It might also be worth specifying landscape format more loosely composed, be used across a double page of a brochure or report. These options make it easier for designers to have the most creative options when the images go into your image library.
Finally, ask the photographer to do a 'recce' of your offices if the photographs are taken there. Try to confirm where the subjects will be placed in advance and shoot an image of the area with your phone – scrutinize anything that appears on desks, meeting tables, or backgrounds that will distract or appear inappropriate. It will mean you won't face retouching costs and delays in releasing your images.
Organizing and sharing your images
Once you've created a set of your team's headshots, it makes sense to displace older and possibly poorly styled headshots. The key to this is to ensure that anyone who needs access to the headshots has immediate and easy access to them. For example, newspapers or trade magazines may feature senior executives of your organization. They've got a challenge to illustrate their print or online articles with attractive portraits, making their publication look good. The individuals with up-to-date and easily accessible images will win out. Editors seeking an image for their print or online publication work in timelines of minutes, not days, so it must be easy for them to access your images if you're to get the slot before other people featured in the story. Similarly, the person responsible for maintaining social media profiles – and anywhere else headshots can be used should update all old headshots to ensure that the new, more considered ones are used.
When managing your photo library and other digital assets, it's worth considering whether your organization could benefit from having immediate online access to approved digital assets in an easy to use online platform. Traditionally, hard drives, Dropbox, and WeTransfer are used to share files, and there's no easy way to immediately find valuable digital brand assets, to ensure that maximum value is achieved from them. A very easily searchable visually-driven library of an enterprise's assets can be created in a Digital Asset Management solution (DAM), where permissions and access can be controlled. It's possible to share individual collections of assets like photographs, videos, presentations, and designs and withdraw seasonal assets or announcements with sensitive timing.
Some DAMs also include functionality to create 'Mini asset websites.' These can be ideal for distribution partners or a press website, which can be public or password controlled.
By creating great headshots of your team and ensuring that they are freely available to everyone who needs them, you'll be serving your organization's strategic brand management well and giving those who view them a real vision into your most valuable asset of all – your people.