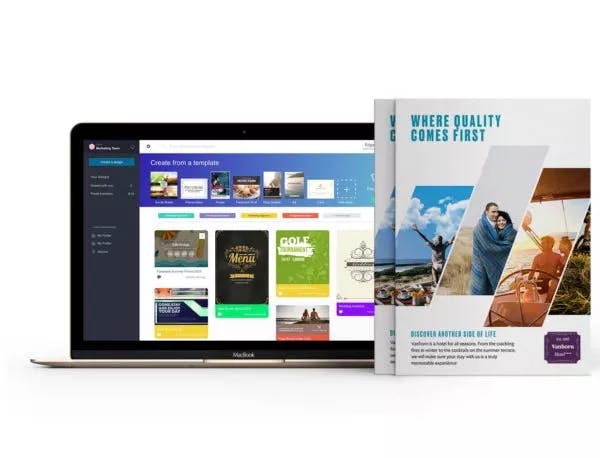 Allow marketing materials to be customized safely and independently. Control your brand from a centralized platform accessible anywhere, anytime, while always staying on brand. Streamline your entire marketing process and improve communication between all departments.
Attract clients through customized local marketing by allowing collaborators to make edits to existing designs without design skills or licensed software. Quick changes to print and digital pieces don't need an expert - your designers can concentrate on strategic projects and strengthening the company's brand. Use Tweak to streamline your marketing and efficiently put your brand assets to work.
Upgrade your seasonal marketing
Make sure your marketing is up to date and relevant, from Christmas to Halloween. Use your own designs or one of our thousands of pre-designed templates, perfect for any occasion. With everything on one centralized platform, each branch of your company can stay on top of their seasonal marketing.
Attract local customers
Empower your team by allowing them to attract local customers locally. Achieve customer-specific marketing without bombarding your designers with requests. Without the help of a designer, team members can edit existing, approved designs. Promote all your activities from one platform. Whether you're marketing your conference center, golf course, function rooms, wedding packages, or your latest family BBQ party, we've got you covered. Our centralized platform allows you to create marketing material for all your activities from one easy to use platform.
Design once, edit forever
No more tedious email chains between designers and other departments. Once your designer has signed off on a template, small changes can be made to previously approved design elements. All your templates live in one place and can be accessed 24/7. Speed up your marketing by having all of your materials on a single, easy to use platform. All of your approved designs can be passed down to local collaborators to be used and reused whenever they are needed. Guarantee that your brand guidelines are always followed. At every level, bring all of your relevant digital assets to the fingertips of those who need them, when they need them.
Cut down on design requests
Allow local collaborators to tailor marketing materials to their area and their clientele. A localized approach to promotions works better than a catch-all message across multiple locations when it comes to marketing. Once you're happy with your design, you can instantly print it or post it to social media. Alternatively, download a high-res PDF and send it to your external printer. Simplify communication between all the teams involved in asset production by controlling your workflow from one single place. We offer 24/7 access wherever you are. Set up custom editing permissions and control what parts of a document each team member can edit, based on their role and position.
Our Digital Asset Management platform allows you to find & share your assets while controlling who you're sharing them with and what they can do with them. Download any asset, ready to be shared with the world in the form of a high-resolution PDF. You decide if it's printed locally, or it's simply posted online. You are not restricted to stock templates - upload your own brand designs and allow your team to securely edit anywhere, anytime. This is a great way of keeping on top of your design work - a really great way to produce graphics quickly when they're required - and protect your brand.