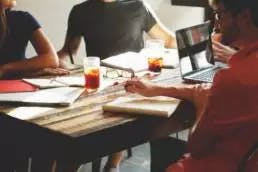 If you're in marketing or business, you have most likely heard of sales enablement. It's the current buzzword around the block that seems to have everyone excited – and rightly so.
Companies have come a long way in terms of marketing, but sometimes there is still a huge amount of stress surrounding the workflow of sales and marketing. Every minute matters with leads and if your workflow is not moving seamlessly, then that can be a considerable challenge.
That's exactly where sales enablement comes in.
Sales enablement aims to ease and strengthen the relationship which sales and marketing teams have. For example, if there is no understandable and logical decision for different members of the teams to be working separately, then a sales enablement solution might be necessary.
So, how exactly do you go about securing an intelligent sales enablement solution when there is so much on offer? We're here to help walk you through it. Here are our five best sales enablement tips and solutions for companies to try.
Top 5 Sales Enablement Tips for Companies
Begin with Training
All good things have a beginning and sales enablement is no different. Having the correct training system in place to adequately equip the members of your sales and marketing teams is vital – especially when you consider that your sales team are the first – and often last – impression of your business. Sales reps will, of course, benefit from the usual marketing and sales training employed by your business. However, if you couple this with specific training types centered around the personalization of each customer interaction then you will be hugely beneficial to your customer referral rate. Reinforce in your team's training that each interaction is of the utmost importance for the well-being of that future relationship.
Content Marketing
One of the most effective forms of lead generation nowadays is content marketing. Marketing your content in the correct and meaningful way can truly impact your sales teams' leads and customer interactions. Take advantage of every inch of content being produced by the marketing teams and consider excellent targets to attract more customers.
Create New Role
Once your teams are clear on how best to handle using sales enablement objectives in their every working day, it might be wise to consider creating specific sales enablement roles. Try to avoid underestimating the scope of the pressure related to running a sales enablement solution within your organization. Consider bringing in roles such as content developers, new training roles and team leaders. Roles such as these can really streamline how a business works.
Look for the Right Tools
Customer relations is the bread-and-butter of any organization and business. Without it, you'll inevitably fail. But that's exactly why the right CRM system might just make your sales and marketing teams much happier. Depending on your objectives, you will need different types of tools.
A smooth flow is vital and will be ensured if the vision of why you're implementing sales enablement is clear to you and your team. Spend time looking around different tools that are available and how best you can optimize them.
For example, for your sales team, you might need a CRM tool such as Teamwork CRM, which is incredibly effective and popular.
For your marketing teams, you may need something such as Tweak, to streamline production of marketing materials and to reduce costs.
Consider everything on offer and make an informed decision.
Make Content Accessible
Marketers can spend hours or days making sure that content is perfect before they publish it and make it visible online. This is exactly why is important that all of that content is available to anyone searching for it. Optimize your content and help your sales team gain more leads by entertaining the idea of SEO.
Search Engine Optimization is a fantastic way of making sure that your content ranks where it deserves to – faster. At this point, you should consider meeting with your content developer.
Thank you for reading so far – we hope this helps you implement the most effective sales enablement strategy possible. For more information about sales enablement you can visit our blog.