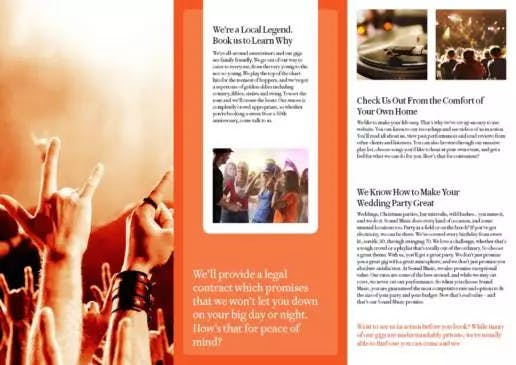 There is no shortage of leaflets as marketing tools and the difference they can make to bringing new customers to a business. Whether you are based with B2B or B2C business, getting your information out there is the most important thing.
Leaflets are great for direct mail marketing and how tirelessly to keep your brand fresh and relevant. However, designing a leaflet can be a tiresome task for those managing a marketing budget, as working with a designer can sometimes an expensive task to achieve quality. That's where we come in – we're going to offer our best designing tips and show you how you can use Tweak to design leaflets for free.
With leaflets, less is more but including images is also necessary. It is important to include high-quality photos that capture what you do well. Images will showcase what you do in the best possible like so use only premium photography. While the flashy design is great, it's all useless if your clients and customers can't read your information. Try to avoid using light colors for your text unless applied over a dark background. Keep your message short, sweet, and easy to understand. There's no need to overwhelm your audience unnecessarily. What good is a leaflet without a quality call-to-action? Have links to your social media profiles, a contact phone number, and an email contact, at the very least. Make sure customers can contact you and find out where to find more information.
Tweak is a free tool that gives you access to 100,000 templates that are print and digital-ready. All leaflets on Tweak are fitted with premium photography and quality text specific to 350 different business types. With Tweak, you gain a free 1GB storage for images and assets. If you want, you can also upload your own logos and designs if you want to edit. You can invest in Tweak to give you access to over a million templates with set editing, sharing, and PDF rights for more features. Users don't need Adobe licensing and can design without skills or effort. Your leaflets will be ready-to-go in no time, with one click printing and live reporting on the production process. For more information on Tweak, check out our homepage. Sign up for a free demo or start designing right away – whatever you want, right now.