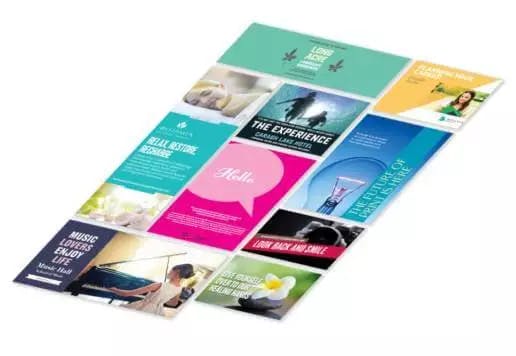 What Are Marketing Materials? There are so many different advantages to marketing materials, as almost every major advertising and marketing campaign implements them to some degree. Every day, we see online and offline marketing through advertisements.
Like this, marketing materials are used to convey different messages about products or services through words and photographs and reinforce different messages to customers. Through particular designs and marketing material templates, these messages can be easily conveyed. Examples of marketing materials include brochures, leaflets, posters, banners, business cards. There are a few key reasons that marketing materials really, really matter for a business's success and sustainability for the future. When you think about it, you can probably come up with a few different reasons yourself. For example, we all know that the core function of finding a brochure on the countertop of your local coffee shop is to find out information and raise awareness of a brand. However, there are many more tangible reasons that marketing materials are impactful – whether printed or online.
Marketing materials help businesses gain traffic and customers by being used for rewards. By offering discounts on a flyer, a business's customer base is opened up to new people who would otherwise have never understood the product's quality or service. To promote goodwill, many businesses also use marketing materials to thank customers for their business and their impact on business success. This is a useful means of becoming recognizable within a business community as a positive impact.
Marketing materials don't always have to be used to promote products, services or offers. Instead, they are often used to promote events that celebrate the business. Business birthdays and anniversaries, es and tutorials are also incredible means of advertising your brand whilst giving back to the community at the same time. The smartest way to design marketing materials is with templates. Templates are used as ready-made pieces of design that are perfect for making quick edits. The best ways to do this are with a Digital Asset Management System. The real skill is producing a set of marketing material templates that can be used for a campaign over an extended period of time. To avoid having to create new versions every time a small change needs to be made, you need to find the perfect DAM.
That is where Tweak aims to help. Tweak doesn't want you to be frustrated or for graphic designers to waste their valuable time. That's why Tweak functions as a perfect tool for Brand Managers. As a Brand Manager, you can decide if users can make changes to marketing material templates just by giving them restricted access or whether approval is required from head office, before a print-ready PDF or digital design file is produced. It is possible to send customized files to a printer, automatically with Tweak's integrated interface. Using Tweak's automated personalization allows marketing material templates to be customized with the user's information, logo or images, simplifying the process all the easier. It's a real evolution of the marketing template to customize professional marketing materials that are already kitted with professional copy and premium photography. Check out our homepage for a free demo on how to access over a million marketing material templates and design in tight conjunction with Adobe Creative Suite (InDesign) – without any of the expensive licensing fees.