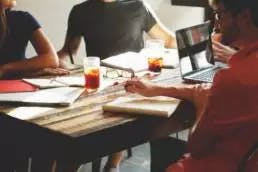 If you work in sales, chances are you've recently heard the term sales enablement lately – it's everywhere! Although it's a popular topic, there seems to be some uncertainty around whether it's just another vague buzzword or a specific field of practice that's delivering real benefits to sales organizations. With that in mind, we set out to answer basic questions about sales enablement, such as, "What is the definition of sales enablement?"
How to Apply Sales Enablement for Companies
If you're in marketing or business, you have most likely heard of sales enablement. It's the current buzzword around the block that seems to have everyone excited – and rightly so.
Companies have come a long way in marketing, but sometimes there is still a huge amount of stress surrounding the workflow of sales and marketing. Every minute matters with leads, and if your workflow is not moving seamlessly, that can be a considerable challenge.
That's exactly where sales enablement comes in.
Sales enablement aims to ease and strengthen the relationship which sales and marketing teams have. For example, if there is no understandable and logical decision for different team members to be working separately, then a sales enablement solution might be necessary.
So, how exactly do you go about securing an intelligent sales enablement solution when there is so much on offer?
We're here to help walk you through it. Here are our five best sales enablement tips and solutions for companies to try.
Increase Sales Quotas
A sales enablement manager can make sure that your sales team is well trained to deal with any customer's needs and are consistently up-to-date with all business tools.
Individual Performance
A sales enablement manager can easily keep track of an individual sales representative's progress and provide any extra assistance and training that may be required.
Content Management
Oftentimes, content is put on the backburner when it comes to sales because people don't always recognize the value of quality content, be it online or otherwise.
A sales enablement manager can encourage the increased use of content throughout trainings of the sales representatives.
Tellwise
Tellwise is a sales acceleration technology that empowers sellers and buyers to collaborate in real-time and can be used with any device.
Tellwise can be integrated with email for collaboration with potential leads and customers and allows you to make custom email and chat templates.
You can also sync Tellwise with Salesforce to ensure all rep and customer activity is recorded.
Tweak
Tweak serves as a single platform for all digital assets and aids in streamlining the marketing department's workflow.
With Tweak, you can access over a million professionally design, agency-standard templates for different print and digital marketing materials.
From a web browser, marketing teams can access their designs and make edits 24/7 without contacting a designer for every small edit.
The main benefit of Tweak is that images, prices, and all product information can be populated into designs through Dynamic Design with a single SKU code.
For more information, check out our homepage or sign up for a free demo.