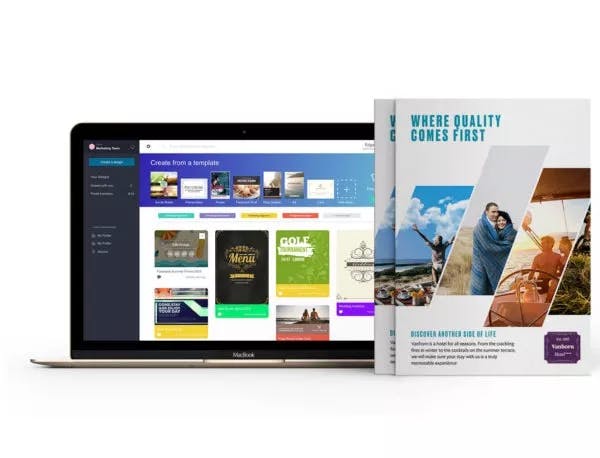 Market business events faster and more efficiently without eating up your designer's time or relying on an outside agency. Promote an upcoming convention and create all the physical collateral for when it happens.
Create designs that are perfect for online, print, and social, anywhere, anytime
Tweak is a streamlined platform where all your marketing designs can be stored, edited, and distributed without a designer's help. Whether you want to make a popup stand, convention program, or an online flyer to be shared on social, Tweak has you covered. By setting custom approvals on each design element, you'll always be on-brand. Use Tweak to streamline your marketing and efficiently put your brand assets to work. Get members to commit early to business events by market yourself 24/7, with professional designs that don't take a designer to complete. Promote breakfast briefings, specialist conferences with keynote speakers, and everything in between with ease. Connect with your audience in a language they understand, whether social, online or printed material like brochures. Don't wait until it's too late to find out that an old logo has been used on a flyer or a phone number is wrong. By editing and managing your designs on one straight-forward platform, you can cut out double handling and potential errors. By locking down the elements you never want to change, your logo will always be in the right place, and your approved colors are the only ones that can be used.
Market any event from one platform
Create custom folders on a single dashboard so the designs for separate departments and events can be located in no time. Why not keep the invitations, posters, and menus for the upcoming golf event all in one place? Create tickets, brochures, or even popup stands for your upcoming event, all without the help of a designer. By having your designs available 24/7, ready to be edited, they can be distributed faster than ever before. If an existing design doesn't, use one of our 100,000 templates and 50,000 images to create professional-looking designs. Designing a piece of marketing material from scratch is the hard part; going back and making a few changes should be easy. That's what Tweak does. Keep all your designs in one place so that if an invitation ever needs to be used again, just pull it up and change the date and venue, easy!
Cut out the back and forth between designers and other departments. No more looking for last year's event leaflet so it can be updated. Just upload all your existing designs to the Tweak platform, and there it will live, one version being kept up to date. If you want to produce something fast and your designer is busy, just use one of our 100,000 templates and selection of 50,000 images. These cover everything from posters, brochures, business cards, even popup stands. We know your branding is important to you. By locking down the design elements you don't want to change, you'll always be on-brand. Tweak offers a transparent editing process where nothing can be used, printed, or posted without you first approving it.
Your designs - anywhere, anytime
You are not restricted to stock templates - upload your own brand designs and allow your team to securely edit anywhere, anytime. Download any asset, ready to be shared with the world in the form of a high-resolution PDF. You decide if it's printed locally, or it's simply posted online. Set up custom editing permissions and control what parts of a document each team member can edit, based on their role and position. With our custom approval settings, you decide exactly who can change what. The specific approvals can be switched on or off at any time. Once you're happy with your design, you can instantly print it or post it to social media. Alternatively, download a high-res PDF and send it to your external printer.
Our Digital Asset Management platform allows you to find & share your assets while controlling who you're sharing them with and what they can do with them. Tweak has enabled us to work more seamlessly, work quicker, work more efficiently, and work more effectively. Our design team loves it because it frees them up to do more of the things they like doing rather than changing PDFs and emailing them. It's a godsend for us. Tweak is highly desirable for any size organization. Still, especially from my personal experience, it's been valuable and makes us all more efficient, which is, I think, what technology is supposed to do.