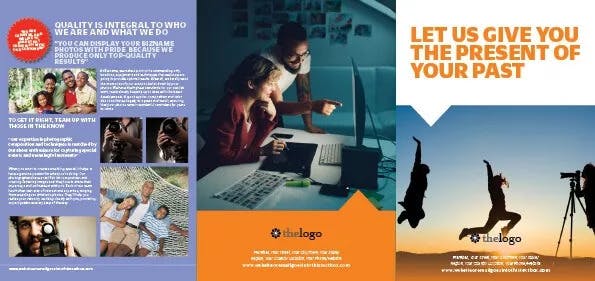 Perhaps it's time you realized it's time to add a new marketing piece to your company's repertoire. Perhaps you've considered multiple options, a brochure being one of them. Having worked in the advertising business for many years, we are strong supporters of the good old-fashioned brochure. They have stood the test of time as a go-to marketing tool—and for good reason.
Compared to postcards and other forms of print materials, brochures can be mailed, used in-person or placed on location, or handed out at events. They are multi-functional and ideal for an on-the-go profession like photography. 
These multi-purpose features make the decision to print a larger number of brochures fairly simple since you know you will be able to use them in a wide variety of ways in the future for repeat occasions.
Whether it's at a large event or distributing them in-person or at people's doors, another one of the advantages of a brochure is that they are a simple but effective way to target a specific group of people. This method is especially useful for local businesses or small franchises.