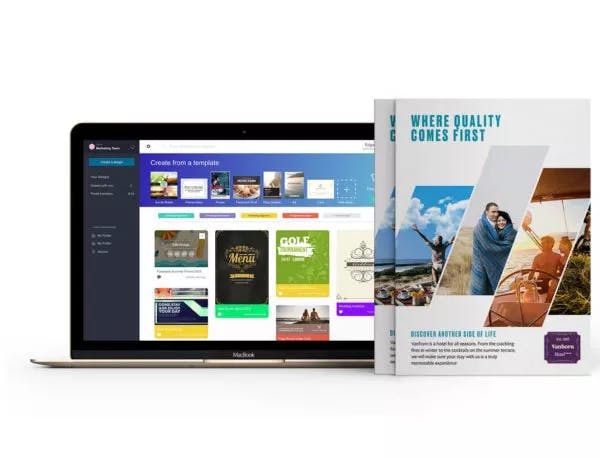 Present and manage your digital assets faster than ever before. Eradicate double handling with a simple tool that makes your life easier. Technology moves fast, so should your marketing.
Present and manage your digital assets faster than ever before
Eradicate double handling with a simple tool that makes your life easier. Technology moves fast, so should your marketing. Tweak is an advanced marketing platform that allows you to access, edit, and manage your existing designs, quickly and simply. Save your designer's time and your marketing team headaches. With simple content management, you can improve your sales team's efficiency by adding agility to your marketing.
Allow non-design people to make necessary edits to existing designs in a brand-safe environment.
Use Tweak to streamline your marketing and efficiently put your brand assets to work. Tailor proposals to get more sales Create custom proposals that will impress clients by featuring their branding and appealing to their ROI.
Giving employees access to an approved proposal template can quickly customize it to a specific client. Quickly add a client's logo and other details to create a designer quality, customer-specific document in minutes.
Get your printed marketing up-to-speed
Create high-quality physical marketing that can be sent to print with the click of a button. Flyers, pop-ups, brochures, posters, anything you want!
Upload and store your existing templates, ready to be updated for your next tradeshow. Otherwise, use one of our 100,000 design templates and 50,000 stock images to create professional, on-brand marketing materials. All this at a fraction of what it would normally cost, created in minutes, and ready to go to print.
Organize all your collateral in one-place
Store all your marketing assets, presentations, sales documents, proposals, images, videos, and text, in one place. No more frustrating searches; it's all in the DAM, ready to be used.
By having a single source of truth for all assets, there will be no more double handling and worrying whether an outdated image is being used. The Tweak solution beats alternatives by integrating right into your existing database. Accessibility is key!
Generate presentations easily
Producing an on-brand, professional-looking presentation has never been simpler. 24/7, no matter where you are.
Upload a presentation template, and it's safely stored on the Tweak platform, ready for collaboration. Editing only takes minutes and can be done without the help of a designer. Once it's approved, simply send it to print or download a high-quality PDF. All of your presentations and reports can be categorized into custom folders so that they can be located quickly and at a moment's notice. The next generation of design and marketing. All of your online and print materials can be used faster, cheaper, and with unparalleled efficiency.
Whether it's printed materials for presentations and tradeshows, or any of your online and social needs, Tweak has you covered. Our platform protects your brand from being tampered with or looking stale, all without eating all of your designer's time. All your assets, in one place, protected, and ready for immediate use. Once a design is ready to be used, simply hit 'send to print,' and your local printer will get to work. Otherwise, your design can just as easily be shared on your social accounts.
If you want to hold onto your design for later, no problem, either leave it on the platform or download a high-quality PDF for offline use.
Improve your efficiency in no time
There's no other solution that allows for such an intuitive, fast way to edit designs and collaborate with any number of team members. Depending on how your custom restrictions are set up, Tweak offers a huge design capability without design training. It's a single platform where all your assets live, but it's also a place for commenting and sharing.
Allow your designer to focus on skilled work. By allowing non-design trained team members to make small approved edits, your designer no longer needs to waste their time changing a date here or a phone number there. These tasks shouldn't take a designer and the inevitable phone calls or emails to request such a change.
Let your designers work on what really matters, growing your brand.
Everything in one place
By storing all of your assets on one platform, there's no more need for frustrating email chains, looking for a previously used design or image. It's all right there, and there's only one version of it. If a design asset becomes invalid, it can be removed from the database. This way, a redundant image, design, or piece of text can never be accidentally used.
When everyone is working from the same source, collaboration gets easier. Workflow management Simplify communication between all the teams involved in asset production by controlling your workflow in one place.
Once you're happy with your design, you can instantly print it or post it to social media. Alternatively, download a high-res PDF and send it to your external printer.
Set up custom editing permissions and control what parts of a document each team member can edit, based on their role and position. Our Digital Asset Management platform allows you to find & share your assets while controlling who you're sharing them with and what they can do with them. We offer 24/7 access wherever you are.
Automatically populate your designs with images and text from your databases. Allow users to make changes to the database and only the database. The choice is yours. That's where I guess where Tweak comes in - it's about not requiring a very high-level graphic design person, and all that comes with that, every time we want to do a simple change to a piece of graphic design.
"In much the same way as our product takes the drudgery out of people's lives and support department, the drudgery that we would have in terms of brochures or digital design has been taken care of by Tweak." Ray Nolan Founder & CEO, Xsellco
"Tweak has been really good - it's been very scalable, and we don't have to spend hours and hours in terms of administration or learning how to use an application. It gives us control over localization. It gives us flexibility but allows us to stay on brand." Connor Keppel VP of Marketing - Phorest Salon Software