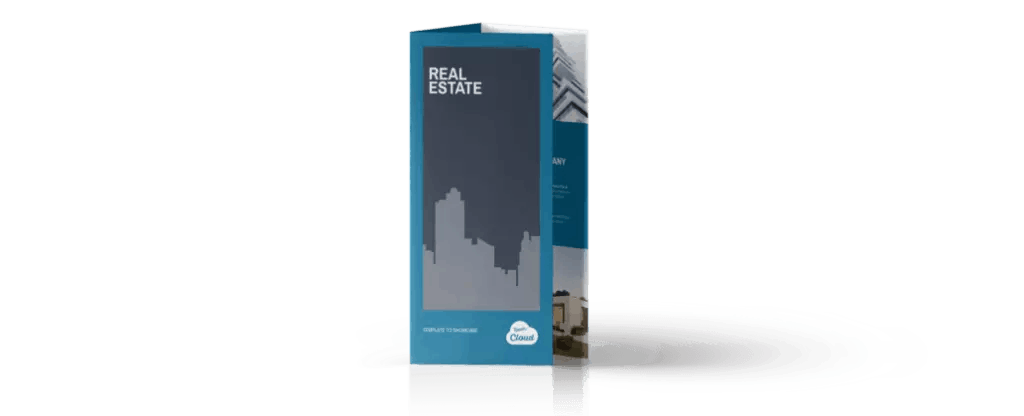 Real estate brochure templates are key assets in the business of selling and renting property. Browsing properties online is a great way to find out what is available area-by-area and within budget.
However, when it comes to making decisions between different properties, it's hard to beat the tactile presentation of information in the organized way allowed by print. Being able to compare two similar properties in well-designed brochures is invaluable for prospective buyers and tenants. However, for home-hunters to accurately evaluate what each of their shortlisted properties offers against their checklist of requirements, each property's features should be presented consistently in graphic design. Real estate graphic design brochure templates enable the required level of consistency.
Different Types of Real Estate Brochure
It is common for some property brochures to feature multiple properties. They are usually presented in a grid format with 4, 6, or 8 properties per page, with the location and price clearly indicated. Many real estate agents utilize this multi-property format in brochures specializing in particular property genres – for example, commercial property, office space, apartments, luxury homes, and land or plots for sale.
Brochures focusing on individual properties range from the full high-end treatment – with a 4 or 8 page A4/letter sized brochure for a large private or commercial property, to smaller brochures in varying formats, including A5, A4, and A3 in European sizes. Different types of brochures should have their own real estate brochure templates to reflect their potential market.
Details to Include in Real Estate Brochure Templates
Designing great real estate brochure templates that feature large 'hero' images of the properties and well-organized information around them is important to create consistency. The headlines should clearly state the type of property, location, and the asking price, plus any other relevant information that is useful for prospective buyers or renters or that will help sell/let the property.
It is important to consider the aspect ratio of most property images when designing real estate brochure templates. Property images can sometimes be shot upright, but it's rare. The imagery is usually landscape (wide) with an aspect ratio of about 1:1.5. Sometimes images will need to be cropped to fit this format, but good photographers usually crop in the viewfinder – making it easy to place images into a standard design grid.
Aerial photography, with the site highlighted, is beneficial for giving the user perspective about where exactly the property is located and often offers views that are not afforded from ground level photography. A small site map can also be helpful, with distances from important local destinations – particularly rapid transit, train, and bus services.
Image Quality is Naturally Important
The quality of imagery is naturally important, not just from a technical perspective, but each photograph should be shot level. Where access is limited, photography sometimes has to be undertaken with a wide-angle lens, which distorts perspectives. This can be overcome by using a perspective control lens or alternatively adjusted for perspective control in an image processing application such as Adobe Lightroom. A property floor plan is also beneficial to buyers and renters to understand how they will fit their lifestyle. Again the image should be of high quality and representative of the layout of the property. For ease of reference, the floor plan should occupy the same position in real estate brochure templates. Once a buyer or renter begins allocating bedrooms, it's usually just a matter of some negotiation to close the deal!
The consistent design of real estate brochures makes it easier for buyers and renters to compare one property. Apart from the obvious speed and cost savings, this is another good reason to use real estate brochure templates to create this collateral in real estate marketing. Consistently placed brand logos, contact information, and the negotiator responsible is important to ensure that the buyer/renter can quickly and easily access the information they need.
The Benefit of Sharing Real Estate Brochure Templates via Tweak
Using a traditional desktop graphic designer, templates designed in advance will make it much easier and faster to produce high-quality brochures. However, the entire process becomes exponentially more efficient. Low cost when a digital asset management system like Tweak is implemented. With Tweak, the designer concentrates on making the real estate brochure templates, which are then uploaded to the Tweak platform – enabling brochures to be populated directly by any authorized person in the real estate agency using just a web browser. Important brand elements that should not be moved can easily be 'locked down' to maintain design and brand consistency. If required, an administrator can approve designs before they go to print. Completed designs can automatically be made available to print providers who are logged on to the system and can update print jobs in the system.
The Tweak system can be used to design and share brochures and any graphic design for print or digital use, including signage, stationery, boards, etc. In addition to its features for online design, other digital assets that need to be available to a network of agents can be accessed here, including presentations, PDFs, images, and videos.