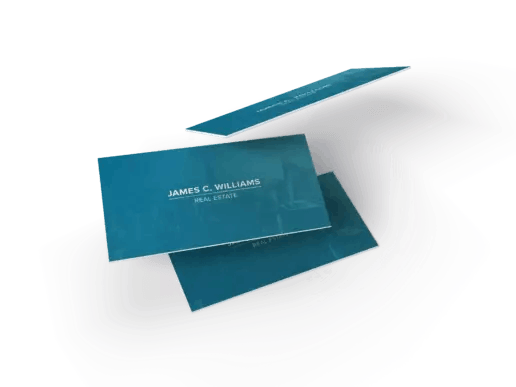 Real estate business card templates may not be the first thing you may consider when establishing a real estate agency, but there is a good reason to consider them carefully once your business is up and running.
There is a saying that "you never get a second chance to make a first impression," and although your real estate agent business card is not the first impression buyers or sellers will see of the agency, it should be a contributing factor to upholding a good first impression. The real estate business is very much a personal one, regardless of how large the estate agency is. From a buyer or seller's perspective, they deal with a negotiator who is their link and will be with them through to a successful or failed transaction. In this context, a business card is a powerful tool. It can make a powerful statement about the negotiator and about the estate agency itself.
The Format of the Ideal Business Card
Good quality card stock – ideally 400 gsm sets the tone, while the real estate's brand logo is vitally important too. The logo should ooze professionalism and immediately be recognized as a brand that is cared for. Clear, concise typography and iconology that is crisp and slick with a restrained color palette are essential elements for a logo to represent a brand properly. All of the essential information needs to be there, including, importantly, the mobile phone number. Photographs are often included in real estate business card templates, providing instant recognition – and a standout factor because this device is still relatively unusual across the spectrum of cards that a client will receive.
The name and job title on the business card is significant. It's a good idea to have the name slightly larger. This typographic trick has two advantages – it makes the name easier to read more quickly, and secondly, it provides stature for the presenter of the card. Ensuring that the job title gives full weight to the professional status of the presenter is critical too. No point in overstating the role, but equally important to ensure that the recipient knows they are dealing with a serious professional.
Real Estate Business Card Templates Managed Efficiently
When we create real estate business card templates at Tweak, we know all these attributes. The personality of the brand needs to come through. That could mean the typographic style of the firm or the colors is chosen. Sometimes a beautiful background or photograph on the back of the card can say a lot. Ideally, the subject should be something timeless, invoking a mood which sits well with the brand. Skycaps, seascapes, and landscapes work really well, particularly when shot in moody morning or evening light. When you have your branded real estate business card templates ready, Tweak has created a straightforward system for personalization and ordering.
A business card template is made available on the company's brand asset portal. Users can either enter their details manually, or the details can be populated automatically from their online profile in the system. Rather than having a designer produce artwork for these cards one at a time, vastly increasing the cost, Tweak allows the order to automatically flow through to the printer of choice. Brand management may require approval on the details entered, but – the ability to view any changes to the real estate business templates online doesn't slow down the process. No uploading of artwork, no emails back and forward with designers. No expensive mistakes. A really efficient system for creating personalized stationery for all sizes of organizations.