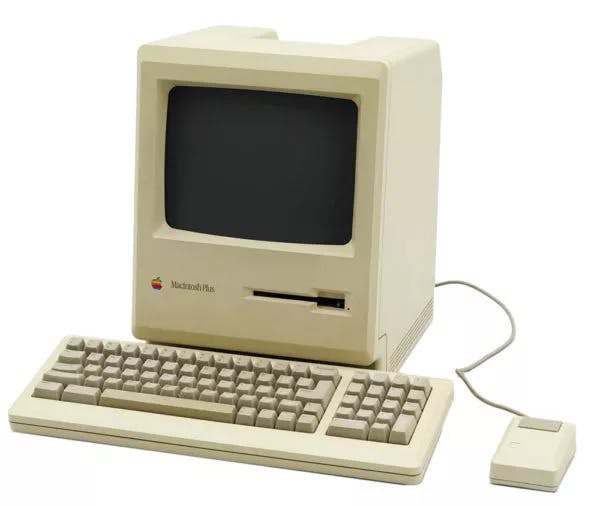 It's more than thirty years since I unboxed my first Macintosh – Mac Plus at the very dawn of the desktop publishing industry. It was great to be in at the start of this revolution – it transformed the family newspaper I worked on as we literally went from the stone age of traditional typesetting to full pages of color on Macintosh screens.
I had spent a career in the world of photojournalism, publishing, and pre-press and launched one of the world's first royalty-free digital stock photography libraries, Stockbyte, in 2006, and Tweak in 2011.  I've learned a lot about how technology can improve processes and never cease to be amazed at the lack of challenge by even the shrewdest brands to marketing production's status quo. Not doing so hurts their bottom line significantly and puts them at a competitive disadvantage.
Original design processes for brand design remain roughly the same as 1986, which makes sense. The best designers I know still start with paper and use a Mac to execute their vision. However, marketing production in many organizations still runs the same way 33 years later, with designers making every minor edit to design documents, usually assisted by a marketing executive.
Today's marketers – whether they're working in digital or in print – are dealing with ferocious hyper-competition. One of the most important tools in that war is brand design. The tone of voice, typography, imagery, and color palette separates them from working hard to steal their customers.
Time is now of the essence – and so are costs. This is the era of just-in-time marketing, yet only a tiny percentage of brands have considered the marketing technology in the world today.
Speed, error-free, and dramatically reduced costs are the benefits that can be achieved by selecting the right martech for their brands, yet it's an area that few enterprises explore. The harsh reality is that using outdated workflows means that sales and profitability are suffering – and it's an angle that your competitors are surely going to capitalize on.
Separating original design from execution
Creating original material from scratch is tedious. As it should be. Creative decisions need to go through a drafting process and can't be rushed.
With a shortage of great graphic designers and a propensity for them to change jobs regularly, Marketing and Brand Managers need to consider ways of retaining them and ensuring that these valuable resources are incentivized to stay as part of their team.
Apart from the fact that making design amendments don't keep graphic designers happy, the process of making new versions of existing designs can be a slow and expensive one. Anyone who has worked in a marketing department knows how error-prone and painful making multiple rounds of changes can be when they're sitting beside a graphic designer with a list of corrections.
It gets even worse when they're working over email and making changes by phone. All the time, valuable hours are being burnt, and things can get tense when deadlines are looming. The bottom line is that it's slow and expensive. Essentially, everyone is using the same process that was used over thirty years ago – when things ran at a more relaxed pace.
Inefficient communication between stakeholders and multiple back-and-forth emails represents a workflow that simply hasn't kept up with an era where the internet is forty years old.
Brand Management Solutions
Considering the range of marketing technology available today,  brand management solutions provide a sensible approach to separating the work of original graphic design from 'changes to an existing template.'
By allowing graphic designers to work only on new or bespoke projects, they come to work with a skip in their step, knowing that they are doing what they have studied for – to solve communications problems with beautifully crafted design, illustration, and typography.
Designs can then be updated and tailored by non-designers in a web browser to meet the day's needs. All of this can happen without involving a designer. Design approval (which prevents the output from being made until it's received the green light) can be included to ensure the user hasn't broken any brand or content guidelines.
Designers can also create 'template' designs for various purposes. These can be customized and repurposed for a whole host of uses. For instance, a designer can create a richly designed proposal document that fits your brand's look and feel. When your salespeople are preparing for a pitch, they can fill in the relevant text, figures, even add the client's logo. It gives the effect that a designer sat down and started from scratch, letting the client know that their time has been valued. In this situation, the salesperson has a professional, crafted proposal that is almost certain to look better than their competitors – yet would only have taken minutes to create using a brand management solution.
This is true for lots of different brand collateral – prices on a flyer can be changed, images swapped out, or contact details edited. In short, there's no more need to schedule design time and cause a distraction to their creative work.
However, many brand management solutions require users to create brand templates with unfamiliar online tools on their platforms. This is an uncomfortable position for brand designers who have spent their entire careers using mature desktop design applications like Adobe InDesign. Successful managing a new workflow transition is risky, with this unnecessary impediment to the fragile creative process.
Complying with Brand Guidelines
Brand management solutions empower users to set user editing permissions on a global or individual basis, meaning that it's easy to lock down design and brand elements that cannot be edited by users.
With a brand management solution, master templates are available for self-service use – ready to make Print Ready PDFs or PNGs, JPEGS for digital or online use at any time.
Whether you intend to use the templates for online, print, or social, each piece is indistinguishable from the work of a qualified designer. In fact, it is their original work – being made available in a user-friendly and sustainable way.
Allowing your creative team to do the hard work of designing everything from brochures to flyers and your non-creative team to edit and update these assets when they need them is an efficient way to run marketing production. You can immediately start saving time and money directly but operate just-in-time around the needs of the business, improving your competitiveness and increasing sales.
However, it's not just money and frustration that is saved. Double handling of designs inevitably means misunderstandings, mistakes, and bad feelings when the blame is being apportioned.
A solution for expensive human errors
Marketing Production is extremely error-prone, with many small technical settings needing to be spot on when print-ready files are being created. Whether it's resolution, size, or metadata, these protocols guarantee maximum execution options later. So, once the technical color profile decisions, pre-press, and PDF standards are entered once, the print-ready PDFs produced will be consistent and match those specs every single time – meaning an end to expensive and embarrassing errors which are often blamed on the printers, but are more commonly caused by a designer under deadline pressure clicking one of the dozens of options incorrectly when creating the print-ready PDF 'by hand.'
That pressure is unnecessary and unfair and can be completely avoided by separating the creation and execution of brand collateral and other design.
How to integrate photos, videos, and other digital brand assets?
Some of the cleverest brand management solutions include a DAM (digital asset management) solution. Traditionally, these images might have been organized in a shared hard drive, on Dropbox, or shared using WeTransfer. A DAM allows you to organize your entire catalog of videos, images, presentations, and more in a central online library. In fact, any kind of digital file you'll need to share with your team.
This kind of empowerment significantly reduces the pressure on 'go-to people' in your organization, who spend much of their day finding items for other people – while the requester is held up completing their tasks. At the same time, they wait for access to the digital asset they need.
Taking a synchronized approach to those 'static' assets and the concept of collaborative brand management using a brand management tool removes the integration risks involved.
Choosing a brand management solution, DAM, and brand automation built into its DNA on the same platform is the optimum scenario. You may not need one element initially, but you know it's built for scale. Using the same processes and interface can choose DAM, Brand, or automation individually or together and know they'll work seamlessly. In short, you shouldn't be buying anything that you're not going to use today.
Brand Automation saves 5000 hours per annum
When you've got a brand management solution, you'll find that there is still some scope for human error – particularly entering complex data or pricing information and imagery. Brand Automation allows you to connect your data source, pricing, and imagery directly to your designs.
For example, in retail or manufacturing, an employee can click on a product barcode, and all of its most up-to-date information and imagery from your database can be entered into a POS or other item of marketing collateral automatically.
This is most useful where there is a high frequency of design usages where cut and paste errors can create an unmanageable error level.
One retailer franchise group, Expert Hardware, a hardware group based in Ireland, reckoned that installing Brand Automation gave their franchisees back 5000 hours per annum by automating their point of sale material using a self-service system. Valuable hours and swift payback for this highly successful retail pioneer.
What's the ideal solution?
There are multiple solutions in the brand management marketplace, but just a few who really accommodate the needs we've described above.
Here are a few key requirements for an ideal brand management solution:
Upload your own Adobe InDesign brand files with your fonts, images, and logos.
Control what's editable (or lockable) in brand designs.
Creation of portals with different designs for user groups.
Control what users can create – PDFs, JPEGs, social shares, etc.
'Design approval' for selected designs ensures a marketer can sign off on a design before it is released.
Inclusion of a DAM that is fully integrated.
Ability to share collections of images to include in designs.
Ability to automatically populate designs with data and imagery on entering a code.
What are your options?
When you're selecting brand management and DAM solution, you need to ensure that you've got one supplier who will take responsibility for the entire package – including any integration work that needs to be done to connect your data. This can be complicated, but the supplier needs to take this responsibility – and get the co-operation from your own team.
Selecting disparate pieces of technology and integrating them also works if you have the IT resources, but placing responsibility on vendors becomes difficult as lines get blurred.
Suppliers who provide both DAM and Brand Management include Adobe Experience Manager (Starting at $100,000 per annum), Bynder ($30,000 per annum, including setup fees), or Tweak (Starting at $5000 per annum, no setup fees).