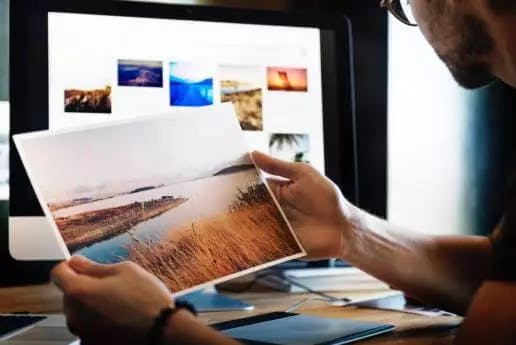 How do you create and design these products, without an expensive Adobe InDesign license and package?
Adobe InDesign files are notoriously hard to open without the Adobe application. InDesign is a document format owned by Adobe that cannot be opened by other applications. As InDesign is used for designing and structuring the layouts of magazines, newspapers, marketing materials and more, it is a highly popular format for designers. Files are very easily exported to PDF, PNG, JPEG, GIF and other popular formats. However, this popularity makes the situation all the more challenging when users want to open and edit their files, without the Adobe application. However, how do you create and design these products, without an expensive Adobe InDesign license and package?
One of our options is to use a third-party service to create and edit your Adobe InDesign through that. That's what we offer you – with Tweak. There are other ways to edit files, through plug-ins. However, plug-ins aren't always reputable when from an unknown third-party source. You can use Tweak to upload your Adobe InDesign package straight from a web browser. InDesign is much loved by most organizations because of how useful it is for exporting designs as PDF, PNG, GIF, and JPEG, to name but a few. However, the flaw, as previously mentioned, is when people are unwilling to purchase the expensive licensing fees from Adobe, to view or edit a small few designs. If you attempt to open your design in another software, then the fonts you used to create the document may not look correct and will be replaced without your permission or intention. It's because of these complications that we know how useful it can be to be able to edit our InDesign documents – which is precisely what we want to offer you.
Editing Adobe InDesign Files with Tweak
Editing Adobe InDesign document can now be carried out in a unique and exciting way, without directly using InDesign software itself. At Tweak, we created an Adobe InDesign uploader that helps users to upload their documents and their related fonts and images to Tweak. Tweak functions as one platform for all of your digital assets that are accessible from any web browser, 24/7. In this way, you don't need any expensive Adobe licenses or designing experience to edit your InDesign files. With one click printing and live reporting on the production progress, you'll never lose track of your files. It's easy to decide which elements of the documents users want to edit. Users can also be assigned rights to view, edit and make PDF files or JPEGs to share on social media once the satisfied. The team leader can choose which features of the file need to be locked down and saved from editing. It is possible to share a library of images for users to select and edit the images, which have been chosen in a document in Tweak. Editing text is also a matter of simply clicking and typing, just like the Adobe InDesign desktop application. Visit our homepage for more information on Tweak and to sign up for a free demo.