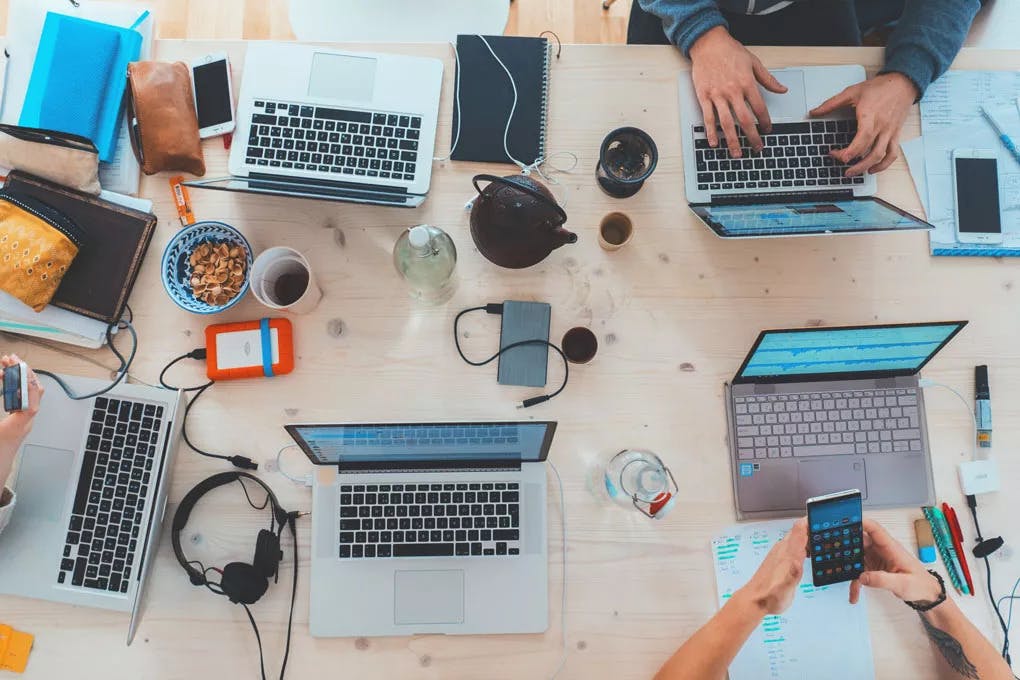 B2B Marketing is challenging, not only because of the diversity of channels but because of the rate at which content becomes depleted. Any organization involved in producing B2B content and branded marketing pieces will require a diverse team- some staffers, some freelancers, and agencies too. Pulling all of this content together in one place – and quality controlling it – is a tough task.
Managing content producers and collaborating on it is one half of the challenge. The other half is making a seamless way for the people who need to use those assets to get access. Not rummaging through folders in a shared drive, but confidently navigating a friendly interface, searching for what they need and finding it in seconds. That's the clear expectation.
The content creators
Creating first-rate content requires collaboration among a highly skilled set of professionals, including;
Creators                     Files they'll be generating
Photographers           RAW, JPG, PSD
Photo retouchers       RAW, JPG, PSD
Videographers           MOV, MP4, Premiere & Final Cut Projects
Video editors              MOV, MP4, Premiere & Final Cut Projects
Graphic Designers     INDD, AI, EPS, PNG, PSD, JPG, GIF
Copywriters                DOC, TXT, XLS
Audio Producers        MP3, MP4, WAV, M4A, FLAC
This complexity indicates the range of files that are required in the modern marketing mix. It's really important that those files aren't just sitting on a laptop whose disk could die at any moment. By having one central storage point and defined access to those assets, the enterprise is safe from data loss with a cloud-based Digital Asset Management application.
Commenting and approval are critical parts of this large scale, ongoing collaborative effort.
What content is required for B2B marketing?
Awareness
Whitepapers
E-Books
Checklists
Videos
Guides
Tip Sheets
Social Media Posts
Consideration
Case Studies
Catalogs
Product Spec Sheets
Samples
Decision
Free Trials
Demos
Free Consultations
Estimates or Quotes
Rich Proposal documents
Coupons
There are two kinds of asset which can be shared – a static or complete asset like a video, a presentation or a PDF of a product sheet. However, now it's possible to have a DAM which includes editable assets for all kinds of collateral, from social media to brochures, which can be editable elements, to rich design proposal documents, which can be customized for a particular client in minutes. This editable brand design is an important part of the flexibility that is required for an agile sales and marketing organization. The traditional route of having graphic designers customize these pieces in a traditional desktop application no longer makes any sense. Sales and marketing teams just can't afford to wait, so it's vital that whatever asset they need is immediately available to them – as a static asset for download or sharing, or as an editable document which may require workflow approval. It is typical for brand elements to be locked down to ensure that brand guidelines have been respected.
Customized access controls
Not everyone in an organization has equal rights – some brand assets may not be ready for release. Thus it's important that different groups of people, ranging from business development representatives to senior sales people to C suite have the appropriate view of brand assets, which are live or are in production. Some sensitive material may only be made available to a very small group. A well designed Digital Asset Management system will cope for all of these scenarios – allowing the creation of groups with specific rights on assets – from view to download to sharing with links and on social media, directly from within the application.
Customized content rights
Customizing editable content is easy in a sophisticated digital asset management application – whether it's printed marketing collateral, digital ads or presentations. When those pieces are being shared, it's easy to define rights for sharing and the creation of low or high-resolution PDFs, JPEGs or PNGs. If approval is required, those files cannot be created until the edits have been approved. All of this happens in a very easy to control way through a dashboard managed by an admin.
Insights
An overview of the brand assets being created and shared is easy to acquire with a DAM designed for enterprise. This will give valuable information on the interaction of your team with digital assets of all types and provide insights into the popularity of individual assets.
Overview
If you're running a B2B marketing operation, you'll need to work hard to engage with your potential audience at the right level. You'll also need to be creating brand assets at a ferocious pace. Without a well-structured system of organizing your content in its raw and finished states, the waste your organization could incur could be huge. Simply measure the cost of the individuals and figure how time could be wasted searching for files. In an IDC white paper published in 2012, the authors share that a global survey of 1200 information workers and IT professionals found that they spend an average of 4.5 hours a week looking for documents – the people who need to find things the most, and who should be the best at finding them. Instead, they are spending half of those 4.5 hours searching for, and not finding, the files they need. Then they spend the other half recreating what they haven't found.
That's got to be a salutary lesson for all B2B brand managers. Time, literally, means money.