Retail
Discover how Tweak streamlines TJ O'Mahony's marketing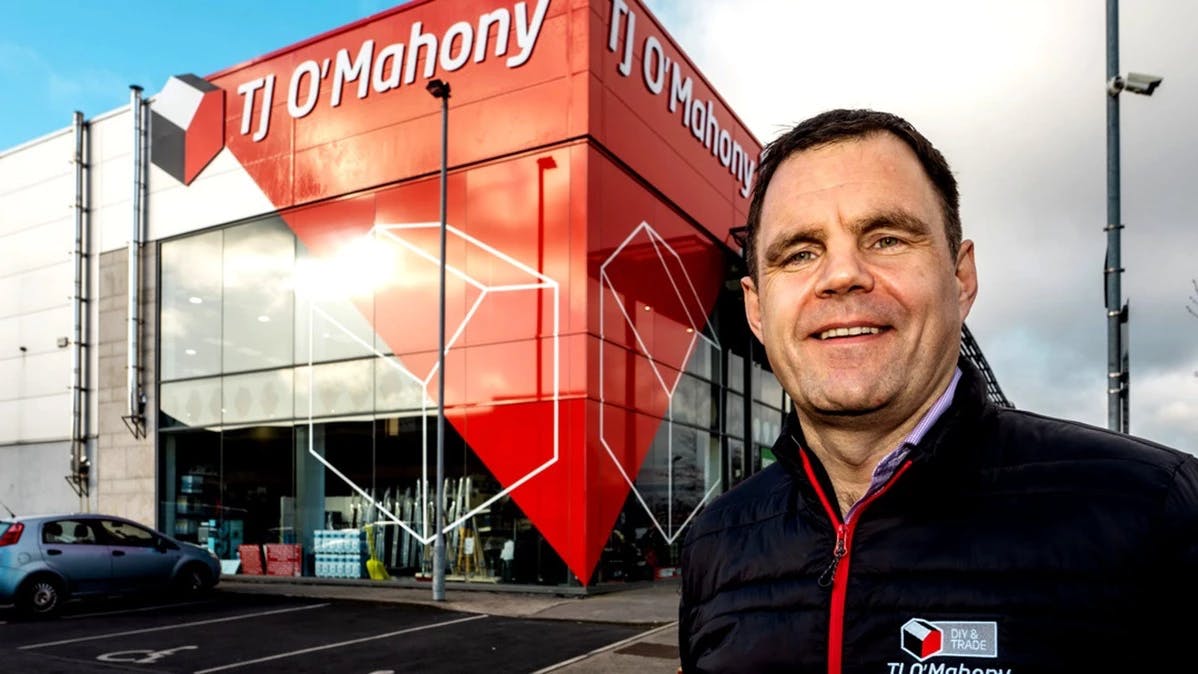 "If we get a marketing idea in the morning, Tweak allows us to execute and turn it into a sale by the afternoon"

HPC Group operates 15 builders merchants and DIY stores throughout Ireland throughout several brands, including TJ O'Mahony. CEO Dennis O'Connor says that understanding the customer needs and communicating clearly is core to their brand. "What makes TJ O'Mahony different is we put a lot of emphasis on understanding our customers, their needs, their wants, and their solutions.
Clear Messaging
"We want to encourage true proper branding, messaging, and signage. For a while, we struggled to simplify or speed up that process, but thankfully since we've been using Tweak, it's meant that we can create champions within the store. Instead of having to wait for our team of graphic designers or get that work done externally, we can get that carried out effectively, professionally, instantly, at a much more cost-effective rate.
"What we try and do is, once someone enters our store, we try and look for clear messaging, clear communications, because in a lot of cases the customer doesn't necessarily want to ask the question. Thankfully, we came across Tweak, which has meant we can create great branding, signage, and communication, creating a great customer experience."
Reacting Quickly
"One of the challenges we have found in the past is our ability to produce at scale, quickly and efficiently, the messaging and branding that we would like. In many cases, it meant a lot of that work would have to be subbed out to agencies or marketing companies or other graphic designers. It can sometimes take some time to get that back and can be too expensive.
What Tweak has meant to us is that if we get an idea, or if there's a communication or there's a message, that we instantly want to get out, due to weather or seasonal changes, we have to react quite quickly. What Tweak has meant is that we can make that change, we can scale it up. We can get the messaging across instantly in all 15 branches. What was an idea in the morning, can be a sale in the afternoon, thanks to Tweak."
Sales increasing by 10 or 25%
"Like everything in the business, marketing comes down to the cost measurement, as does Tweak itself. And after a full 18 months of using Tweak, we can immediately see from a cost-effective perspective the benefit. More importantly, On the spot decisions that we took at critical times last year, when the weather changed suddenly, where we needed to get a special out. If we had a bit of sunshine on a particular weekend, we could get ticketing and messaging out across our 15 stores, which meant it was nicely translated to an increase of 20 or 25%."
Competitive environment
"We're at a time where speed is everything. Being in a position where you can be flexible and agile to carry out an immediate change on the spot An idea can turn into print or into messaging, or into digital. More importantly, it can happen within an hour using Tweak. It is fiercely important because we're in a very competitive environment, whether it's competing with the big multiples or supermarkets. We're all trying to occupy a fight for that critical spend, and we've found the ability to do that with the facility of having Tweak being so important. Tweak is a fundamental part of our marketing plan. We see the response from Tweak, so it's a fundamental part of what we do."
Slick point of sale
Darren Kerrick is a supervisor in the bathroom division of TP O'Mahonys, and he's a Tweak Champion in one of their stores. He explains the operational role which Tweak is playing in-store. "Point of sale in-store is a crucial, integral part of any sales. It's the point of contact the customer meets with the product. So it's really, important that we have a slick, clean, standardized POS in-store. This allows us to carry the brand name and also to produce some nice graphics and promotions to entice customers to buy because the impulse buy is really key."
Importance of seasonality and weather
"People's buying habits change throughout the year. In winter, there's not a lot of painting going on; there'll be more fuel. We rotate our promotions around the store to the season. In the wintertime, we run a large fuel sale, and it's very successful with a lot of marketing in-store. When we move into the more spring and summer months, we rotate to painting and home improvement, which is also key in the warmer seasons of the year. So it's really, the key to tailor the promotions to the time of year.
Replacing a time-consuming system
"Our previous methods of producing POS was very time-consuming. We'll take 20 minutes to pull a POS together, whereas, with Tweak, we have built-in templates that we can drop images in, change the text so we can more or less run a promotion at the drop of a hat. If a competitor is doing something that we need to be doing, we can build a promotion around that. It's a very versatile tool for us to use in-store and to go where the market goes. What we are producing on Tweak is a lot of flyers, online marketing, POS around the store, or in a bathroom showroom. Each bay is individually priced via Tweak, so it's very versatile for the whole store to produce POS and is really easy to use."
Responding to competitors
"The ability to adjust promotions and turnaround fast POS is crucial to the business. If we see that a promotion is not working or we're not getting the general uplift in sales, we can adjust the promotion. So we've done this on numerous occasions in-store when competitors have adjusted prices down our up, we're able to adjust to match the competitors. This is reflected in sales in-store. We've run successful promotions in the bathroom section, and it generated huge uplift in sales. For the team, when we get a promotion right, and a product really takes off, it's a fantastic feeling to be able to move so much stock with just a simple application of Tweak. "