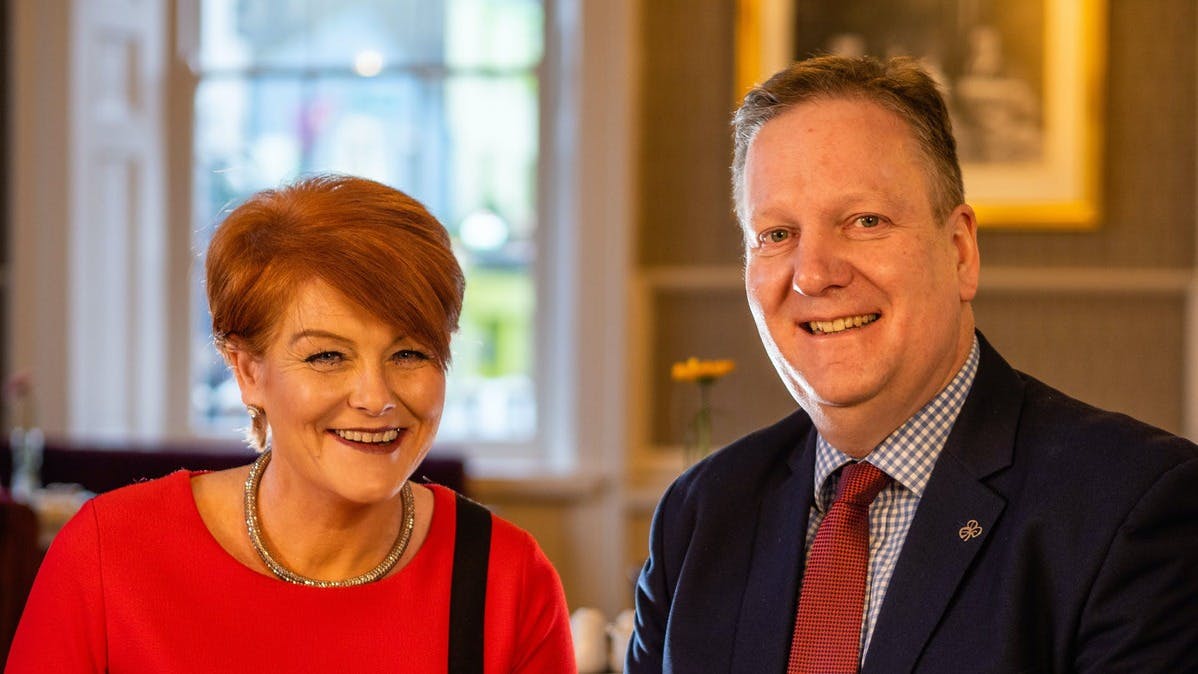 "You go into a meeting, you decide on your marketing idea, and then Tweak clicks into place. It just takes the hassle out of it"

Sean & Elaine Lally
Co-Owners, Hotel Woodstock Ennis

Choice Hotel Group is one of two master franchisors globally for Choice Hotels International, with GDS capability for Clarion, Quality, Comfort, Clarion Collection, and Ascend Collection. It operates a number of hotels with its partners and uses Tweak to manage the brand assets in each of its hotels. Sean Lally and his wife Elaine run the four-star Hotel Woodstock, in Ennis, Co. Clare. " It's a 67 bedroom, family-run property. We're famous for our hospitality our weddings, and our local food and beverage business. We're very lucky to be based close to Shannon Airport on the Wild Atlantic Way. " explained Sean Lally.
"We have to be able to stand out from the crowd, and this is where we found Tweak to be very useful because I am constantly coming up with sales and marketing ideas. It meant that we were nearly at the same playing field as some of the bigger brands. We find it very beneficial for a low cost because you might have a good idea in a lot of cases, but by the time you go to a design company and launch the costs can make it impractical.
Double digit annual growth
Elaine Lally believes that being in control of their brand is very important "We're always looking at what other hotels are doing, sales and marketing-wise. Tweak is extremely good and user-friendly. We're not spending a fortune on designing something. Sales at Hotel Woodstock have outperformed the market with double-digit growth for a number of years, according to Sean Lally. "Thankfully, a lot of that has been driven by our hands-on approach, our personal interaction with our guests. We come up with different initiatives, be they print advertising or social media. We've won a number of national wedding awards as well, which we're very proud of. Tweak has helped us to achieve that because it means we turn our ideas around quickly. We've got to be able to make a point that we're different. Facebook is one of our strongest marketing tools. It has increased year on year, developing flyers on Tweak to get the message across further. So it has worked for us, and Tweak has been extremely beneficial.
Turning marketing campaigns around faster
Elaine Lally, who is Sales Manager for the hotel, believes in fast turnaround campaigns. "You go into a meeting, you decide on your marketing idea, and then Tweak clicks into place. It just takes the hassle out of it. Because the sales ideas get turned around much quicker, they get out into the marketplace, and we turn around the business.
An hour north of the Hotel Woodstock, in the centre of Galway, is The Hardiman, another Choice Hotel Group property. Sales and Marketing Manager Caroline Spollen explains the wide range of marketing channels she uses. "The marketing channels we would use would be print, papers, magazines, online, digital, and our website. Social media, Instagram, Facebook, and radio as well are part of our marketing strategy."
Multitasking across channels
We always look a couple of months ahead for our marketing. We use a marketing document that tracks and traces everything that we do, to make sure that we're on track, and we're looking ahead as much as possible. The marketing side of my role is very fast-paced and you have to be on top of a couple of different projects at one time. Getting our marketing, print, and design work together quickly and on time and on budget is a large part of my role. So using Tweak has improved the speed of how we get our design work to the marketing channels. If it's social media or paper, we can quickly edit a PDF, which is very good for our budget. This is why Tweak is such an excellent tool, because you just go in, you have to just edit a bit of text, make sure everything is on brand, and you have it out. You have it to the paper. You have it online. You have it on social media in a matter of minutes, which is great for multitasking. It's been excellent to use - very user friendly. Tweak gave me a call, had me set up and trained in 20 minutes, and I was using the Tweak that afternoon."